INSTALLATIONS

WE PROFESSIONALLY INSTALL MODULAR FURNITURE SYSTEMS
Your time is money. Once your system furniture has arrived onsite, you need them installed. Correctly. ASAP, not next week. And you abhor the thought of tying up valuable employees to get the units configured. Call Wellfleet Services. We're modular specialists.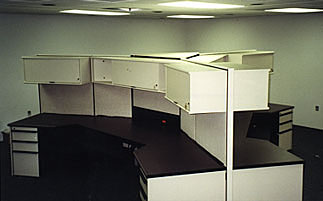 WE CONFIGURE BOTH NEW AND USED SYSTEMS
Whatever the source of your units, we can work with you. Our technicians are experienced with most major brands to properly get the units functioning in a minimum amount of downtime for you. If you have purchaed components, we can also help you determine the best configurations for your units - based upon your panels, your physical space, and your work flow needs.
WE HELP YOUR STAFF BECOME MORE PRODUCTIVE
A key advantage of modular systems is their ability to be easily reconfigured. Sometimes moving just one wall can greatly enhance productivity. Let us examine the possibilities for you!

SAVE MONEY BY RECONFIGURING INSTEAD OF REMODELING
Whether you have recently downsized or added more employees, you may already have all the space you need. Reconfigure your existing panels or introduce modular wall systems to unlock hidden space efficiency.